I was looking online for some retro barbecues, but only came across the standard red round barbecue that looks like Sputnik.
Looks a bit like Sputnik
Then, I came across an article on Retro Renovation on vintage barbecues. I really like the first two listed, both are Kenmore grills. I went to Kenmore.com and found that they have absolutely nothing like it right now. Figures, right? So, I found "Email Us" and sent them the following message:
I was doing an online search for retro barbecues when I came across this article on Retro Renovation on some vintage grills.

http://retrorenovation.com/2014/07/04/8-vintage-barbecue-grills/

I really like the old Kenmore grills and was wondering if Kenmore had any plans on releasing a retro style barbecue. I think it would get a lot of attention, especially from the design community and the rockabilly community. I know Retro Renovation would blog about it. Dwell magazine would certainly write something about it. I would suggest making them in retro colors like black, red, orange, aqua, mint, and pink. Black and stainless steel are just so...plain.

I also found this old 1950's ad for one of those barbecues at the other link. I'm guessing its an old Sears ad.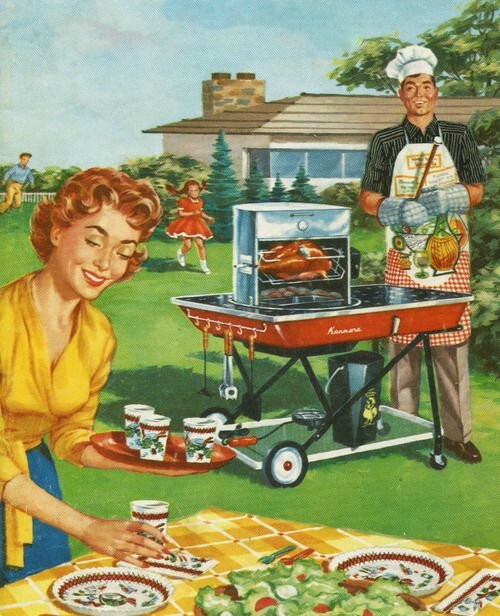 I don't think there are any midcentury modern style grills out on the market right now, except for the classic round red barbecue that looks a lot like Sputnik.

Would like to hear back from you if you decide to produce something.
JOIN ME!
If you would like to see something like this swanky barbecue made, you should send them a message. Send them a picture of your retro house or send them a whole essay on why it needs to be produced or just send them a short email on why it should be produced. What I'm getting at is that it takes a lot of voices to get them to listen.
Click HERE To Go To The Email Page At Kenmore
Writing an email for a product is pretty simple. Just remember the basics: Who, Why, What, When, and Where.