We all know that when summer rolls around the swimwear comes out. We always want to look our best and maybe put in some extra effort to lose any winter weight/size. I am an active person, but I always feel like I have a terrible time losing size. I never go by weight because I do weightlifting which means I have muscle. I tend to go by pant size. Right now, I've lost (according to the scale) roughly 10lbs in the last two weeks. I knew this before I weighed myself because my jeans are getting loose around my butt and waist.
I wanted to give everyone 3 big tips as to how I achieved this.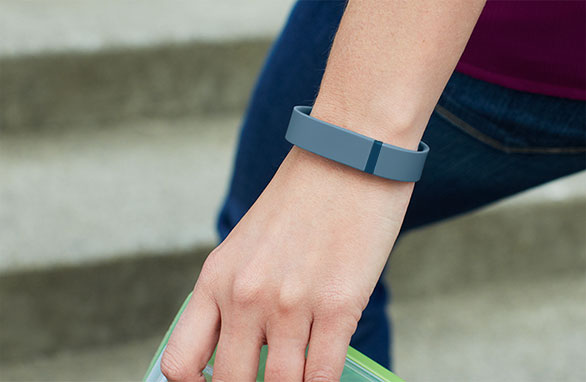 Fitbit Flex
1. Fitbit.
(
fitbit.com
) I wear this goofy thing (fitbit flex) on a daily basis. It connects to my phone, so I can log my food and water intake. It vibrates when I reach my daily goal of 10,000 steps. I can log my workouts. It's great! I used to have a food diary where I wrote down everything I was eating. This is much more convenient. The fitbit flex, what I have, comes in 10 different colors and is $99.99. If you don't want to spend money on a fitbit, or something equivalent, then start keeping a food diary. Spend $5 and buy a little notebook that you take everywhere with you. Write down everything you eat. It makes you more aware of what you are eating.
2. Workout for at least 5 hours a week.
I workout for 8 hours a week between crossfit and taekwondo. I also try to keep myself busy doing projects, taking my dog to obedience class, etc. Having a high intensity workout for at least 5 hours a week will really help you burn that fat and tone that muscle. Examples of high intensity workouts: crossfit, running, swimming, aerobics, zumba, P90x, Insanity, spinning, cross country skiing, and boxing. Other workouts are great, but may only be moderate or low intensity. The goal is to really start sweating (the best indicator of a high intensity workout). Sign up for a month of crossfit classes or start swimming laps or find a daily zumba class. If you workout for 1 hour a day, 5 days a week, you will notice a difference, you won't be so lazy, and you'll feel much healthier.
3. Scrutinize your diet.
I eat paleo 6 days a week. On Saturday, I will eat paleo, but that's our local luncheon day and I have no qualms about grabbing a burger and milkshake (but only on that day). I tend to eat a lot of veggies, lots of proteins, and usually fruit for smoothies or dessert. You don't have to eat paleo. Lol. Just eat healthier. Turn in your bland white rice for brown rice or quinoa. Instead of sugar, try using other healthier forms of sweetener like honey, agave nectar, coconut sugar, or stevia. My boyfriend actually has Acute Intermittent Porphyria, kind of rare apparently, but from what I have found he should probably consider eating a Mediterranean Diet. Everyone is different.
I usually suggest to people to plan out meals and to start making larger meals. Those leftovers will go a long way. Keep in mind that your stomach is roughly the size of your fist. It is designed to stretch, but it's not Mary Poppins' bag. Don't keep filling it up just because you want to see how much fits in. I find that if I am still hungry, a little protein helps me squash that hunger attack really fast. One of the best tips I can give you is: Get rid of all the junk and bad food! Just get rid of it and stop buying it. Its hard to stop eating crap food when it's right there and so convenient. Get rid of it and stop buying it.
I'm not an expert, but I have spent SO MUCH TIME learning and working out. If you have any questions, feel free to ask me. I'm totally willing to help you out.