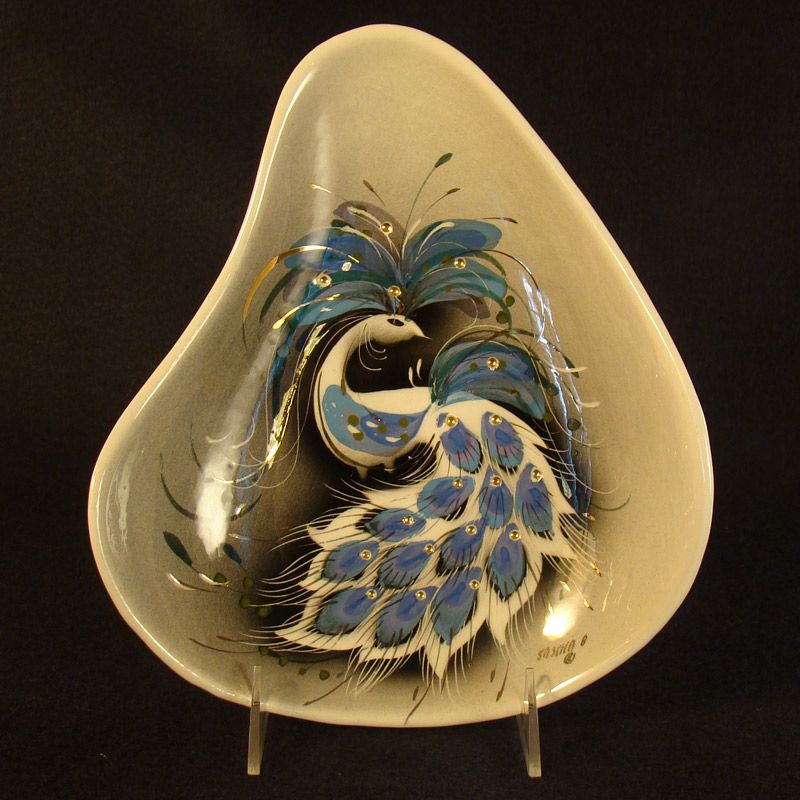 A Sascha Brastoff hand-painted dish
Most of what is known about Matthew Adams comes from his time working for Sascha Brastoff, one of the top names in ceramics in the 1950s. It was during this time that an Alaskan trading post contacted Brastoff and asked him to design a line of porcelain with Alaskan motifs that they could sell to tourists. Matthew Adams was selected to design and paint the pieces for the "Alaska" line, though Brastoff also worked on painting the pieces as well. The beautiful mid-century modern pieces are very functional, but mix the rustic charm of Alaskana. If you like primitive mid-century modern art, having a Matthew Adams piece could very well fit into your collection.
Pick up a piece from the Alaska line and you will find that it is either signed by "Sascha B/ Brastoff" or "Matthew Adams". You might also notice, if you are familiar with Brastoff's other ceramics, that there is no rooster backstamp. That's just how they were produced. The biggest differences between a Matthew Adams and a Sascha Brastoff piece from the Alaska line is the art itself. Adams kept his work a little tighter and the lines had more motion and purpose than Brastoff's work. The artists are commonly confused with one another by the layman.
Adams worked for Brastoff for three years in the 1950s. When the Alaska line proved to be successful, he left to open his own studio and continue the Alaska line, though his pieces then started to include the word "Alaska" on the front. Not much is known about Matthew Adams life outside of his work with Brastoff, aside that he lived and worked in Los Angeles and was born in 1915.

If you happen to know more about Matthew Adams, please feel free to share. The art history and antique world would love know!

Below are several examples of the work of Matthew Adams. Click to enlarge.