I mentioned that I might blog about my new workout plan that I constructed, so here it is.
Type

Exercise

Duration

Cardio

Running, 4 miles

30 min

Home

Push ups + Sit ups, moderate

Jumping Jacks, vigorous

Jump Rope

Shadow Boxing

Kettlebell & Medicine Ball

5 min

2 min

5 min

20 min

10 min

Upper

Bicep Curl

Standing Skull Crusher

Shoulder Press

Bench Press

Bent Over Shoulder Fly

Sit ups + Leg Raises

Sitting Rows

Pull ups

30 min




15 reps, 2 sets – each

Lower

Squats

Good Mornings

Deadlift

Bridges w/weight

Hamstring Curl

Side Lunge

Leg Extension

Leg Press

Seated Toe Raise

30 min




15 reps, 2 sets – each
M – Cardio
T – Upper
W – Rest
Th – Cardio
F – Lower
Sat/Sun/Evenings - Home
How did I come up with this?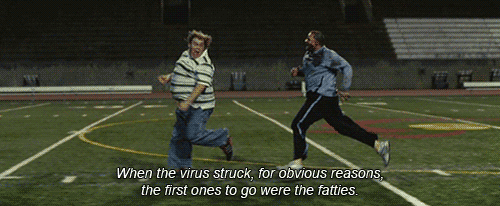 Do it to avoid zombies!
I'm not a fan of running, but it really helps me burn the fat. I know that I can do 4 miles in 30 min on the elliptical. When it comes to the upper body and lower body my thought is to have a mix of overall exercises and focused exercises. Deadlifts, for example, almost work the whole body, while calf raises are an isolated movement for the calves. I know that I work best on either a "every other day" or "two days on, 1 day off" schedule. In this case, it's more like 2 days on, 1 day off, 2 days on, work out at my leisure. The home workout is basically me using stuff I have at home - jump rope, 35lb kettlebell, 20lb medicine/slam ball, and open space in the garage. I really like shadow boxing, especially to fast and heavy music. I tend to run at the pace my music is at and the same thing goes for shadow boxing. Bring on The Prodigy, KMFDM, etc.
How long do I plan on doing this?
Until it gets boring. When I feel like I need a change, I can switch stuff out for other exercises.
Can I do this?
If you want to give this a try, go for it. If you need me to demonstrate how to do something, comment below. If you want to only do the M-F stuff, that's cool. People get busy on the weekends. I will highly recommend stretching so your body doesn't seize up - if you're not use to weight lifting. At home, I generally just stretch out while I'm watching an episode of some tv show.
What does everything work out?
Bicep Curl (arm)
Standing Skull Crusher (arm)
Shoulder Press (shoulder)
Bench Press (chest, shoulder, arm)
Bent Over Shoulder Fly (shoulder)
Sit ups + Leg Raises (upper and lower abs)
Sitting Rows (core, arms)
Pull ups (back)
Squats (butt, legs)
Good Mornings (butt)
Deadlift (butt, legs, everything)
Bridges w/weight (butt)
Hamstring Curl (upper back legs)
Side Lunge (abductors, adductors, everything)
Leg Extension (upper front legs)
Leg Press (upper legs)
Seated Toe Raise (lower legs)